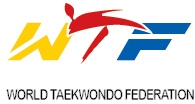 1. Students must arrive in uniform, with their belt, mask, and shoes.

(We will not allow changing at the studio and please do not come barefoot.)
2. If you bring a water bottle, please leave it in the car.
3. Students must arrive on time. If students do not have a reservation, they cannot take a class.
4. Please explain to your kids about the pandemic and social distancing.
1. They must follow directions from staff.
2. They should take off their shoes, put them on the carpet, and go on the mat.
3. They should find a dot, and get ready for class.
(No running or rolling and keep the social distance.)
4. After class, follow the instructions to leave.

1. Students will be dismissed one by one with hand sanitizer.
2. Parents will be waiting inside or outside.
If parents leave the studio, please plan to be back 5 minutes before the end of class.
Students cannot wait inside after class is dismissed.
3. Everyone must wear a mask and get their temperature checked.
Before leaving home checklist
When students come inside the studio
THANK YOU FOR YOUR COOPERATION!